12 Organic Eggs
Regular price
Sale price
$13.50
Unit price
per
Sale
Out of season
Our free range organic eggs are sourced from certified organic farms around Victoria and beyond.

And because they're certified organic, you can be sure that these eggs come from happy hens that are fed organically grown gain. Each year these farms are inspected to ensure that the outdoor area where the hens wander around and forage are free of chemicals. This means weeds and pests have to be managed in natural ways such as companion planting, rotational grazing and using cultivation techniques that expose pests to predation.

The maximum outdoor density allowed on an organic egg farm is one hen per four square metres where range rotation is practiced, or one hen per six square metres where fixed outdoor ranges are used. Click here to learn more about the strict controls in place around organic eggs.
Organic Certification

All our eggs are certified organic. As we source our eggs from a range of different organic farms, please check your egg carton for details on the certifying body.
Origin

Victoria or New South Wales (depending on season).
Sustainability

Egg carton is made from recycled fibres and is also compostable. Please recycle after use in your household recycle bin.
Deliveries

Free delivery on all orders over $50.

We deliver from Wednesday to Saturday. Your delivery day depends on which part of Melbourne you're in.

You can check our delivery zone here.

You'll receive an SMS the day before delivery with your estimated delivery time, so you know when to expect us.

Orders must be placed by midday two days before delivery (eg. by midday Tuesday for Thursday delivery).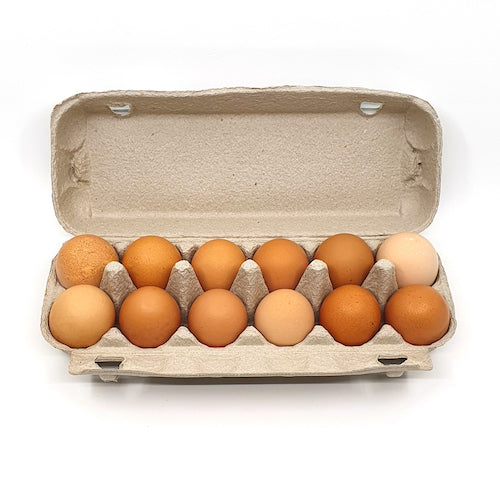 Browse our range of boxes...
Add something extra...
Regular price

Sale price

$13.50

Unit price

per

Regular price

Sale price

$3.00

Unit price

per

Regular price

Sale price

$3.80

Unit price

per

Regular price

Sale price

$6.00

Unit price

per

Regular price

Sale price

$4.00

Unit price

per

Regular price

Sale price

$42.00

Unit price

per

Regular price

Sale price

$9.50

Unit price

per

Regular price

Sale price

$58.00

Unit price

per

Regular price

Sale price

$13.00

Unit price

per